Zinedine Zidane has "no regrets" and "will not change" despite Real Madrid's 3-0 home defeat by leaders Barcelona.
Luis Suarez, Lionel Messi and Aleix Vidal scored as unbeaten Barca opened a 14-point lead over the champions, who had Dani Carvajal sent off.
"I'm here to make decisions," Zidane said. "If we had scored in the first half, things would have been different.
"I take responsibility. Everyone seems to think that La Liga is done and dusted but I don't think that it is."
Zidane has won two Champions Leagues – making Real the first club to retain the trophy – and last season's La Liga in just under two years in charge.
But they sit fourth in the table – only two points closer to Barcelona than the relegation zone.
"We've got a week to rest up well and we'll come back stronger than before," said Zidane. "Real Madrid never give in.
"We didn't deserve to lose in this fashion, but that's football and it happens sometimes.
"We aren't in too much of a bad place. Football can change very quickly. This summer Barcelona were on the rocks, now it is us."
Real were level until the 54th minute, and 1-0 down when Carvajal was sent off for trying to save a goalbound shot with his hand. Messi scored the resultant penalty to effectively seal victory in the first league Clasico of the season.
"We made a mistake for their first goal and the game was uphill from then on," Zidane said. "Just as I wanted to make the substitutions, the second goal went in and everything changed with the sending-off."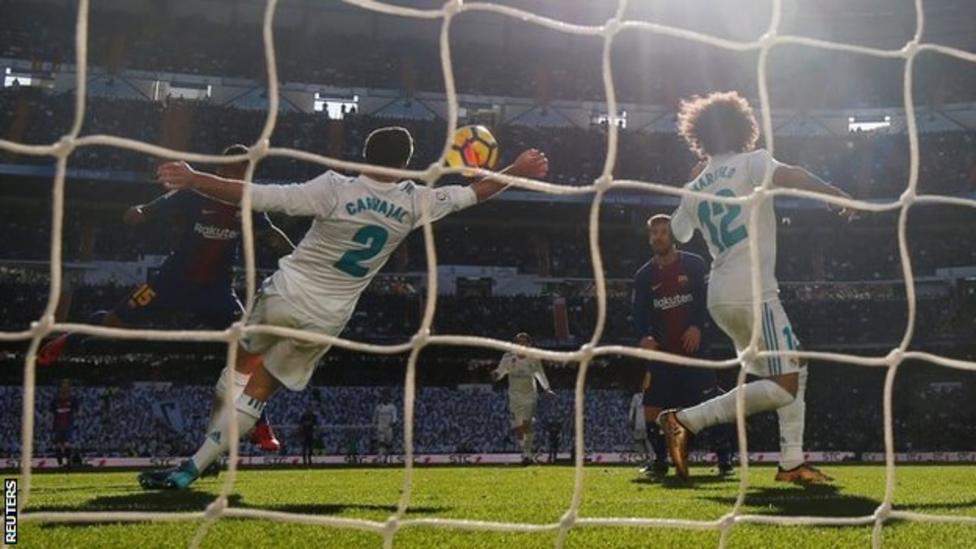 Barca boss Ernesto Valverde – who is yet to lose a La Liga game since his summer appointment – does not think the title race is over, despite Barca being nine points clear of second-placed Atletico Madrid.
All four teams behind Barcelona in the league – Atletico, Valencia, Real and Sevilla – lost this weekend.
"The first half of the season isn't even over yet. We're ahead of our rivals, but we're not focused on that. We want to win our games and avoid losing any," he said.
"We figured out how to beat Real Madrid's pressure in our end. The game was wide open, and neither team clearly dominated play. And we persevered until later on when we took control of the match."
–
Source: BBC
');